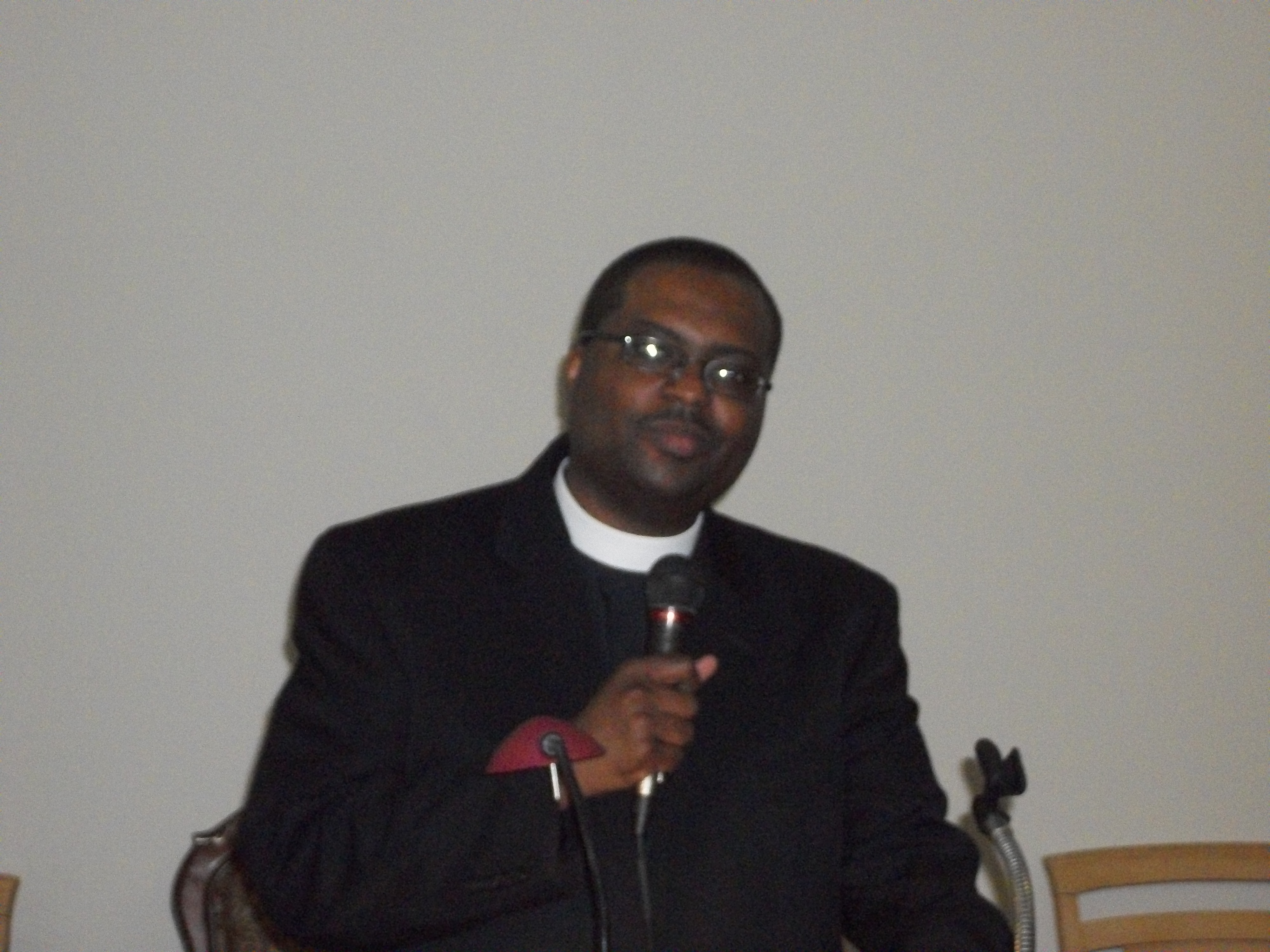 Pastor George Blacken is the youngest of two sons born to the late Deacon Floyd H. Blacken Sr. and Missionary Florence C. Blacken.  In 1985, Pastor Blacken was baptized in Jesus name by the late Bishop Walker J. Foster Sr. of Greater Faith Way of the Cross.  One Sunday morning in October 1991 at Living Waters Way of the Cross in Newport News, Virginia, the Lord blessed Pastor Blacken to receive the precious gift of the Holy Ghost shown by initial evidence of speaking in tongues!
God blessed Pastor Blacken mightily in his engineering pursuits at the Florida Agricultural and Mechanical University Florida State University College of Engineering.  On December 14, 2001, God blessed Pastor Blacken to graduate Summa Cum Laude, receiving his Bachelor of Science degree in Industrial Engineering from Florida A&M University with an overall G.P.A. of 4.00.  Pastor Blacken was a part of Progressive Church of Our Lord Jesus Christ, under the ministry of Elder Wender R. Gavin, while in Tallahassee, Florida.  After graduation, Pastor Blacken returned home to pursue his graduate engineering studies at Old Dominion University in Norfolk, Virginia.  When he was a part of Living Waters Way of the Cross under the leadership of Bishop James C. Jackson, Pastor Blacken had served as the Brotherhood Secretary, Junior Usher Board Treasurer, Together We Can Math Tutor, Baritone for the Male Chorus, and a Vacation Bible School assistant.  Pastor Blacken had been one of the key coordinators for the annual Living Waters Way of the Cross Church Men's Day Conference.  Pastor Blacken also served the church with his speaking and writing talents.  God blessed Pastor Blacken to graduate Summa Cum Laude from Old Dominion University with a Master of Engineering in Modeling and Simulation on May 10, 2003.
On the week of Thanksgiving 2003, Pastor Blacken was blessed by God to receive a competitive engineering job offer from CSC in Washington, D.C.  God instructed Pastor Blacken to make Bible Way Temple under the leadership of Apostle James Silver in Washington, D.C. his choice. During September 2005, God would call Pastor George Blacken to the ministry. Pastor George Blacken and Lady Melissa Head became one in marriage on August 5, 2006.  God blessed Pastor George Blacken to have his first book, "Happiness as an Independent Variable", published and released during the fall of 2007. While a member at Bible Way Temple, Pastor Blacken worked with a variety of auxiliaries at Bible Way including, Pastor's and Elder's Board, Youth Department, Sunday School Teacher, Bible Way Men's Retreat Committee, Bible Way World Wide Sunday School Region II Steering Committee, and the Wednesday Church Bible Study. After completing the Bible Way Bible College ministerial requirements, Pastor Blacken was ordained an elder at the July 2009 Bible Way World Wide convocation in New York. Pastor Blacken and Lady Blacken were blessed with four wonderful children, George Blacken Jr., Timothy Blacken, Grace Blacken, and Matthew Blacken.
Pastor Blacken received several dreams from the Lord that his primary fivefold ministry calling was to be a Pastor. In one of the dreams, the Lord told Pastor Blacken to name the church he would pastor, Holy Temple Cross Ministries Inc. In faith, Pastor Blacken and Lady Blacken moved out of Washington, D.C. on August 31, 2012 to Waldorf, MD to establish Holy Temple Cross Ministries Inc. The church was legally incorporated on October 7, 2012 and later fulfilled all additional legal requirements to be an independent church with full non-profit 501c(3) status. The charter members of Holy Temple Cross Ministries Inc. included: Pastor George Blacken, Lady Melissa Blacken, their children, Deacon Jerry Head, Missionary Christine Head, the late Deacon Floyd Blacken Sr., Missionary Florence Blacken, and Brother Floyd Blacken Jr. Under the Lord's leading, Pastor Blacken has moved the Church to the Akron, Ohio area.
Pastor Blacken started a book publishing company, Apostolic Pentecostal Alliance Books LLC, in February 2017.  Pastor Blacken continues to progress in his calling given by our Lord and Savior, Jesus Christ.  To God be the glory!